Central Avenue Closure
Sewer lining under McCord Road at the intersection of Central Avenue (State Route 20) will require the closure of Central Avenue including several lane restrictions on McCord Road.
A Central Avenue road closure is required as bypass piping will lay on the pavement surface and be routed in the center of McCord Road between upstream suction and downstream discharge manholes. The diagram below shows a schematic setup of this arrangement.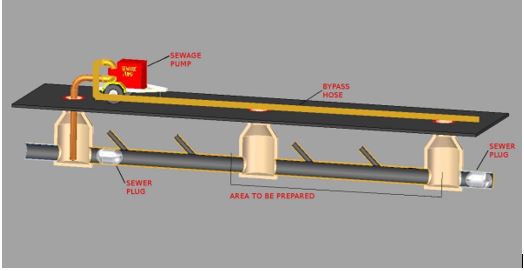 Details of the Central Avenue road closure are as follows:
Closure is only permitted after the opening of the new I-475 and Dorr Street Interchange.
Closure will not occur during the 2021 Solheim Cup.
Closure is limited to 4 consecutive days and be limited to a Saturday thru Tuesday timeframe.
Central Avenue will be reduced to 1-lane in each direction upstream of the closure. Right-turns only from Central Avenue to McCord Road will be permitted.
McCord Road thru and right turn lanes will be open. Left turning lanes will be closed.
Portable Changeable Message Signs (PCMS) will be posted on I-475 and Central Avenue 14-days ahead of the closure for advanced public notice.
Please click on the following link to view a schematic drawing of the Central Avenue Road closure.
For any additional questions or comments please contact the City of Sylvania Department of Public Service at 419-885-8965 or by email to the Deputy Director of Public Service, Joe Shaw, at jshaw@cityofsylvania.com.