What's Happening in Sylvania?
Check this page for highlighted events and current announcements. This page, as well as Facebook and Twitter, are ways that we can communicate with our residents and others in order to bring them the most up-to-date information.
Request For Proposals for 2021 City of Sylvania Community Calendar
CLICK HERE for more information.
Harroun Park Restoration Project
CLICK HERE for more information on the project currently underway.
What to do when you see Rapid Flashing Beacons
Please take a moment to refresh your memory on how to proceed through a crosswalk with Rapid Flashing Beacons activated: CLICK HERE.
Proposed Monroe St. Bridge over US 23 Project-2021
The proposed project on the State Route 51 (Monroe Street) Bridge over US 23 in Sylvania, Lucas County, Ohio is proposed to include the replacement of the driving surface and bridge deck, as well as improvements to the outside walls (parapets), outside fencing (vandal fence), light fixtures, and sidewalks. Through coordination with the City of Sylvania, local schools, and emergency services, in order to expedite construction, the bridge is proposed to be closed for 120 days with vehicular and pedestrian detours posted. Construction is expected to begin in the summer of 2021.
Additional information and supporting documentation regarding the project will be posted on the ODOT District 2 website: http://www.dot.state.oh.us/districts/D02/Pages/PublicMeetings.aspx
The TMACOG 2045 Transportation Plan
Want to help shape the transportation needs of Lucas and Wood counties for the next 25 years?  The TMACOG 2045 Transportation Plan is being updated and your comments matter.  Please visit http://tmacog.org/onthemove/ for detailed information including your chance to complete a survey and possibly win a $25 gas card.
Survey by the Lucas County Hazard Mitigation Planning Committee
This survey is designed to help the county as a whole, and your community, gauge public perceptions of hazard vulnerability. The information you provide will help reduce vulnerability by guiding local leaders as they prioritize mitigation projects.
Click on the link to take the survey: https://www.surveymonkey.com/r/LucasHMP-Public1
Toledo Area Water Authority 2018 Memorandum of Understanding
Click here to read the TAWA 2018 MOU that was signed on January 31, 2018.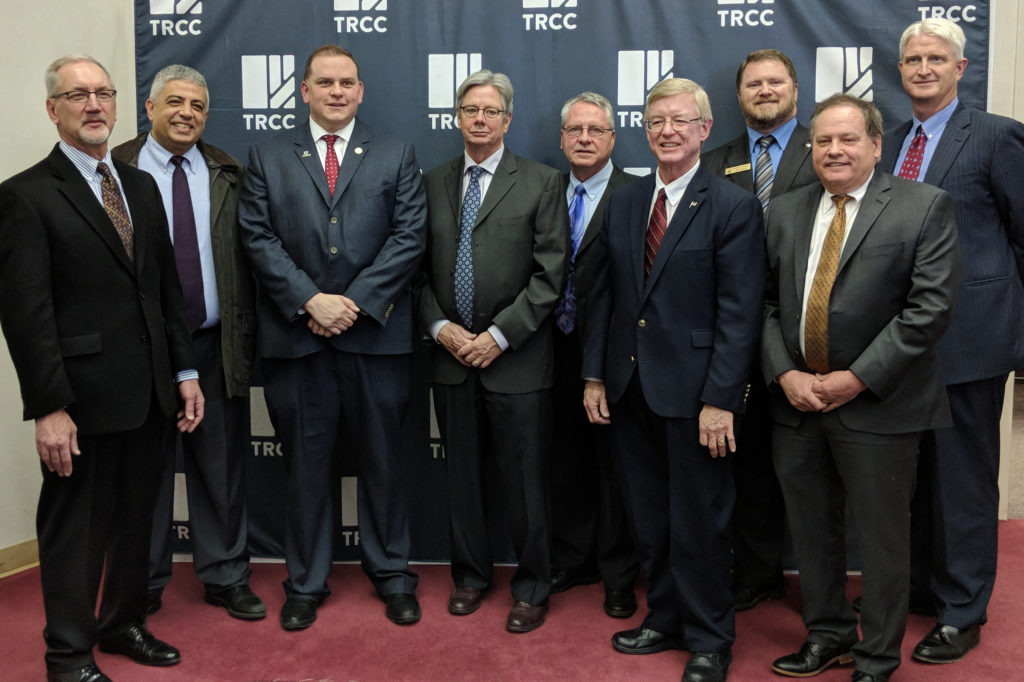 (Left to Right): Jerry Greiner, President, Northwestern Water & Sewer District; Ziad Musselam,
Director/Sanitary Engineer, Fulton County; Mayor Wade Kapszukiewicz, City of Toledo; Commissioner Pete Gerken, Lucas County; Mayor Don Atkinson, Village of Whitehouse; Mayor Craig A. Stough, City of Sylvania; David P. Thompson, Monroe County, Michigan Drain Commissioner, Mayor Rich Carr, City of Maumee; Mayor Thomas Mackin, City of Perrysburg.
"Creaticity" Map – Find Fun New Art in Sylvania
Click here for a map of electric box art locations and the artist's name. Have Fun!
Clear Choices Clean Water
The Stormwater Coalition has launched a new web-based educational program called Clear Choices Clean Water-Greater Toledo Lake Erie. This program aims to educate residents on how to keep Lake Erie clean. Take a moment to visit the site by clicking on the following link:  http://toledolakeerie.clearchoicescleanwater.org/