What's Happening in Sylvania?
Check this page for highlighted events and current announcements. This page, as well as Facebook and Twitter, are ways that we can communicate with our residents and others in order to bring them the most up-to-date information.
Glass City Marathon – Sun. April 22, 2018
Attention Sylvania Residents, the Glass City Marathon will be held in part of the City of Sylvania on Sunday Morning, April 22nd, 2018. People traveling on King Rd, Sylvania Ave, Brint Rd and McCord Rd should expect delays or seek alternative routes between 8am and Noon. Sylvania Ave will be closed to thru traffic between McCord Rd and King Rd. Vicksburg Dr will be closed to all vehicle traffic in front of Tam-O-Shanter, no entry or exit from Tam-O- Shanter to Vicksburg Dr.
Our Officers will be at many intersections to assist moving runners through the City. Please be patient if you find yourself on part of the Marathon's course. Our Officers will assist the vehicles in moving through the area when it is safe to do so.
For more information visit http://glasscitymarathon.org/…/glass-city-marathon-course-…/
Toledo Area Water Authority 2018 Memorandum of Understanding
Click here to read the TAWA 2018 MOU that was signed on January 31, 2018.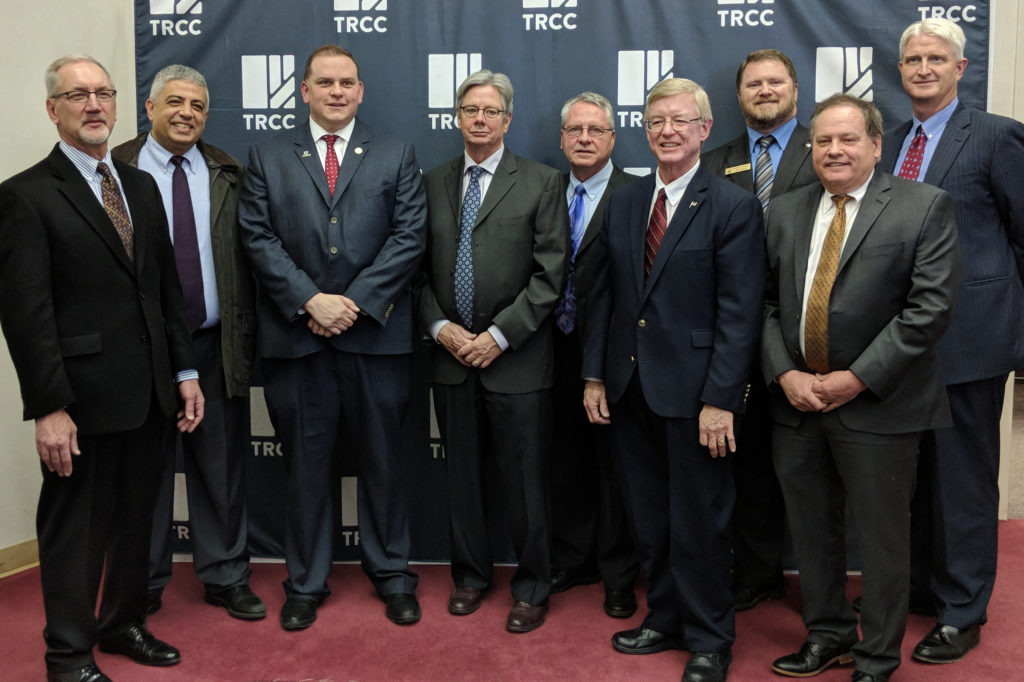 (Left to Right): Jerry Greiner, President, Northwestern Water & Sewer District; Ziad Musselam,
Director/Sanitary Engineer, Fulton County; Mayor Wade Kapszukiewicz, City of Toledo; Commissioner Pete Gerken, Lucas County; Mayor Don Atkinson, Village of Whitehouse; Mayor Craig A. Stough, City of Sylvania; David P. Thompson, Monroe County, Michigan Drain Commissioner, Mayor Rich Carr, City of Maumee; Mayor Thomas Mackin, City of Perrysburg.
2018 Sylvania Safety City Registration
Safety City is a program for all children entering kindergarten living in the City of Sylvania or enrolled in any Sylvania school this fall. CLICK HERE for the registration form.
Download the new Sylvania 2018 Calendar
Click here to download a printable version of our 12 month Sylvania Landscapes Calendar.
S.C.A.T. Parent Survey-Let us Hear Your Voice, it Makes a Difference!
Please consider taking this brief 10 minute Sylvania Community Action Team Parent/Community Survey; it is for all adults with or without children. All responses are 100% anonymous. Your responses will help SCAT plan their prevention programs and strategies in our community. You will have the opportunity to enter a drawing for a $50 Visa Gift Card at the end of the survey.
https://www.research.net/r/2017scatcommunity
"Creaticity" Map – Find Fun New Art in Sylvania
Click here for a map of electric box art locations and the artist's name. Have Fun!
Clear Choices Clean Water
The Stormwater Coalition has launched a new web-based educational program called Clear Choices Clean Water-Greater Toledo Lake Erie. This program aims to educate residents on how to keep Lake Erie clean. Take a moment to visit the site by clicking on the following link:  http://toledolakeerie.clearchoicescleanwater.org/
Sylvania Township Land Use Plan Survey
This survey is open to residents of the Township or the City of Sylvania and to those who work in the Township. Sylvania Township officials have started the process of updating their Land Use Plan. Sylvania Township's last plan was completed in 2007.
The Plan will help guide community officials for the next 5 or more years in areas such as neighborhoods, land use and development, parks and recreation, infrastructure, community services and facilities, and transportation. Click here to take the survey.
SOMO Development Plan Announced
Sylvania City Council approved the sale of the City's SOMO (South of Monroe Street) Development Site at its regular meeting on Monday, March 6, 2017. Click here for more exciting information!