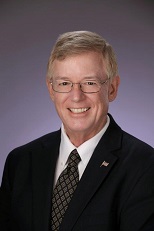 Craig A. Stough 6730 Monroe St. Suite 203 Sylvania OH 43560
P: 419-885-8925
F: 419-885-8998
Email: city.mayor@cityofsylvania.com
Hours: Monday through Friday, 8:00 a.m. – 4:30 p.m.
The Mayor
Craig Stough was sworn in as Mayor of Sylvania on January 3, 1996. From 1986 to the time he was sworn in, he served on Sylvania City Council. He was President of Council in 1994 and 1995. Mayor Stough was born in Toledo in 1953, and attended Sylvania Schools, graduating from Sylvania High School in 1971. He has undergraduate and graduate degrees from Ohio State University. Mayor Stough is an architect with the firm of Stough and Stough Architects and was honored as the 1997 Toledo Architect of the Year. He is a member of the Sylvania Area Chamber of Commerce, and serves on the boards of the Sylvania Community Improvement Corporation and the Sylvania Rotary Community Foundation. He also serves on the Sylvania Historical Village Commission, is the immediate past Chair of the Toledo Metropolitan Area Council of Governments and is Past President of the Northwest Ohio Mayors and Managers Association. He is a member of Olivet Lutheran Church.
Laura Bigelow
Administrative Assistant to the Mayor's Office Laura Bigelow's first day as the Mayor's Assistant was March 3, 2008. Laura has lived in Sylvania for more than 30 years, graduating from Sylvania Northview High School in 1987. She has an undergraduate degree from Ohio State University. Laura worked for the Lucas County Auditor for 20 years. She volunteered for the Sylvania Police Department for 7 years.