Large Diameter Sanitary Sewer Lining (Phase I)
In 2017 the City of Sylvania commissioned a conditions assessment for all sanitary sewers 18" through 42" in size within the City of Sylvania Sanitary Sewer District. Much of this large diameter collection system was installed in the 1970's when the City switched treatment plants from the City of Toledo to Lucas County. This assessment included field reconnaissance to determine pipe condition, sediment deposits, corrosion levels, and visible defects in the nearly 50-year old system.
The City started rehabilitation work in 2021 with Phase 1 which focused on the gravity collection system downstream from our Monroe Street and Sylvania Avenue pumping stations. These areas have been particularly hardest hit by corrosive hydrogen sulfide (H2S) gases where turbulent forced-flow switches to steady-state gravity flow.
The City lined 24", 36", and 42" sewer under McCord Road from Central Avenue to Sylvania Avenue and under Sylvania Avenue from Franklin Drive to US-23. Phase 1 rehabilitation included sewer lining by cured-in-place pipe (CIPP) method. CIPP lining is a method of trenchless rehabilitation whereby a textile liner tube is coated with an epoxy-based resin mixture and inverted into the pipe wall with air pressure. The liner tube is then steam-cured in place which causes the resin to harden. The finished product is a fitted and smooth-walled pipe that is corrosion resistant. Once cured, active service laterals are reinstated by a remotely controlled robotic cutting device.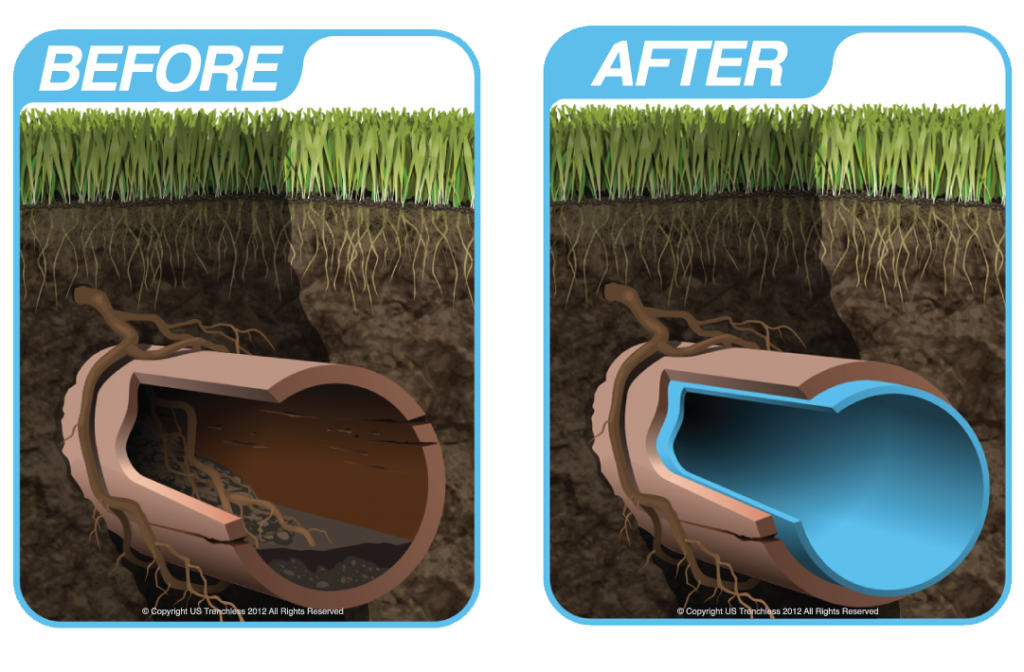 In addition to the sewer lining select manholes in the Phase 1 system were lined using a different process (polymeric spray on coating).  This is a two-part process that fills any cracks and voids in the manhole with a polyurethane foam and then coats the inside part of the structure with a silicone barrier that is corrosion resistant.
The following videos provide additional background information on both of these processes:
CIPP Lining
https://www.youtube.com/watch?v=AB4vgNLGmNM
Manhole Lining
https://www.youtube.com/watch?v=irQ68XG3OZk
Overall, the Phase 1 project included the lining of just under one mile of sewer and over 210 vertical feet of manholes.  The City awarded the Phase 1 contract to Visu-Sewer, Inc., headquartered in Pewaukee, Wisconsin.  Work started in September 2021 and was completed in November at a cost of $1.4 million.
Large Diameter Sanitary Sewer Lining (Phase 2)
Phase 2 will continue work downstream from the Monroe Street pumping station and will focus on 36" sewers under Eaglehurst Road, Lancelot Road, and in the westerly right-of-way of US-23 between Holland-Sylvania Road and Lancelot Road.
Overall, the Phase 2 project will include the CIPP lining of just over 4,000 feet of 36" sewer and over 70 vertical feet of manholes.  Work is scheduled to occur in 2022 and take 2 to 3 months to complete.  The estimated cost of the Phase 2 project is $1.4 million with 49% of the project funded with an Ohio Public Works Commission (OPWC) grant.
For any additional questions or comments please contact the City of Sylvania Department of Public Service at 419-885-8965 or by email to the Deputy Director of Public Service, Joe Shaw, at jshaw@cityofsylvania.com.
Subheading #1